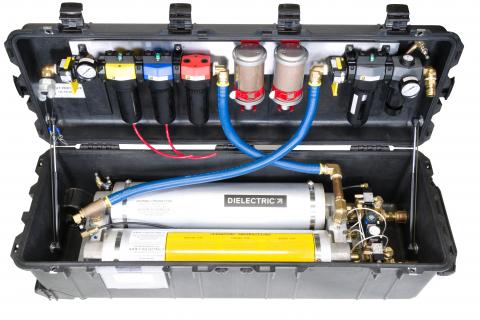 Emergency Air Dryer
Air Dryers and Automatic Transfer Systems
Dielectric's Emergency Industrial Twin Tower Heatless Air Dryer is designed for Point of Use application where dry air is required.
This moderate-flow, standalone Dry Pak employs two desiccant towers which cycle alternately through drying and regeneration modes by pneumatic timer components and utilize normally closed pneumatic valves to ensure system integrity.
This unique design gives a minimal pressure drop through the dryer for greater efficiency. Utilizing a heavy duty case with wheels makes this easy to move around and place in position near a portable compressor air source.
Supplied with a humidity test meter to measure the outlet dew point. Also included are 50' of ¾" rubber reinforced high-pressure hose with ¾" universal airline coupling for connecting to the mobile air compressor's outlet and emergency dryer's inlet and ¾" quick connects.
| | |
| --- | --- |
| Part number | product description |
| 105295 | Emergency Industrial Twin Tower Heatless Air Dryer |
|  105322 | Hose reel assembly |
| 105323 | Check/Shutoff valves assembly |
| 105324 | Check/Shutoff valves with line regulator |
Minimal pressure drop through the dryer for greater efficiency
90,000 SCFD output at -40⁰F dew point
Over 122,000 SCFD output at 0⁰F dew point
Input conditioning includes:
5µm general purpose filter
Coalescing 0.3µm filter
Differential gauge, absorbing filter with activated carbon element, shutoff input valve and pressure gauge
 
Output conditioning includes:
Coalescing 0.3µm filter 
Differential gauge regulator with 50psig adjustability
Pressure gauge and Shutoff output valve 
Compressed air input only, no electrical connection required
Normally-closed pneumatic valves
Protected within a heavy duty case with wheels, which also make for easy movement and placement